Discover more from Fike's Substack
The top of mind of the very bottom
Between People: Roger Narvaez
Living your best story and striving to accomplish your goals!
Meet Roger.
Roger and I had the pleasure of working together at the San Antonio Food Bank. I was working in the Development team and Roger was working in Client Services. We both now happen to be writers and working at different organizations. Roger recently published his first book, a memoir titled Between the Tracks, and I wanted to share his work with you and talk a little bit about his experiences, his community, and our collective love for service.
Between the Tracks - a San Antonio Story
Rob: Roger, first off, I love your book. It's given me so much to think about, and I love how real you are in it with your journey as a San Antonio native. As someone who came back to San Antonio (after being born here) much later, it was interesting to see it all from a new perspective. What made you want to write this book about your experiences?
Roger: First off, thank you for giving me this opportunity to visit with you. It has been a while since our Food Bank days. So this book itself was an afterthought to my original writing plan. I was an undergrad at TAMUSA1 working on my Bachelors in Sociology when the original thought of writing came to me. I was going to call it "From Head Start to the Front of the Class" as a way to encourage others that it's never too late to start your educational journey. And, for the younger generation, to encourage them to not give up and to find their passion.
During that time, events were going on around me with my parents, a sibling, and relationships, and I used writing to express those feelings as a way of healing. So it got very personal.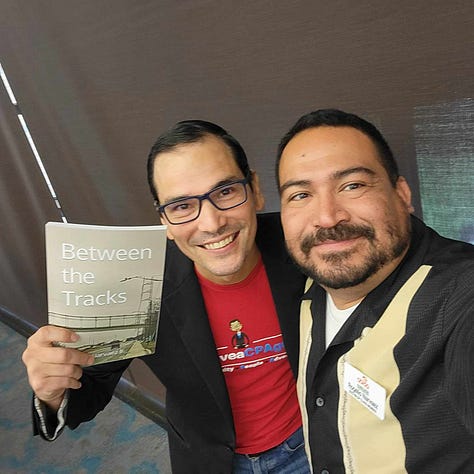 Rob: It really struck me, through your stories, how much of our journeys are shaped by the families we grow up in. It can be difficult to take stock of how that has affected us. What would you say was a big shaper of your current career and the goals you are setting out to accomplish?
Roger: Family is a big thing. And, we often don't realize the impact of both what we see as traditional family and those we create with friends, neighbors, and even co-workers. But looking back, I think the journey I was on allowed me to see humanity as we are: broken people trying to make it every day. Today I work as a social worker with the City of San Antonio, providing outreach services to the unsheltered community members who live in our city. Being able to connect and see folks as they are is important. 
As far as goals, every day I'm challenging myself, "Can I do better?" Right now, I'm working toward my Clinical Social Work license. This will allow me to venture into opening my own practice.
But looking back, I think the journey I was on allowed me to see humanity as we are: broken people trying to make it every day.
Barriers
Rob: To you what are the keys to overcoming barriers, whether they be society, financial, cultural, etc?
Roger: To the individual, I would say: do not settle. Do not give up on your dreams or passions. And look at the many ways to reach those goals and beyond. Barriers and challenges, while not always a good thing, can be a way to make us stronger as a person.
To the community at large, I would say, there are many great, smart, talented, individuals that are not given the opportunity to shine because of barriers. If you are able to help remove a barrier [for someone], you could be looking at the next doctor who cures (BLANK). Or inventor. Or writer.
---
Looking to the Future
Rob: What are you hoping to accomplish in the future? I think I saw something on Facebook about pursuing a Ph.D.
Roger: Yes!
I have been having some very deliberate and open dialogue and communication with my colleagues who used to be my professors during Grad school. And so as a male, Latino, social worker, we are underrepresented, especially where it matters in education. I want to teach the next generation of social workers! So my future plan is to get my PhD in Social Work. And make waves and changes.
Rob: Do you have any new projects you are working on that you would like to share? Maybe a new book is on the horizon?
Roger: Yes. So, I'm always writing. For example, sometimes in the middle of the day or night, I'll begin to write poetry based on something that I am experiencing or feeling. Usually, those get posted on Facebook or the 'Gram. If I am having a dream, and I can remember it even the slightest, I'll write down some notes. 
For the new books, I definitely want to put something together about my dog Scarlett and how having her helped me survive my father's passing and the passing of my friend's mom who was such an amazing and loving woman. Moreso, I'm thinking more of a kids' book. I also am thinking about a follow-up to Between the Tracks, as this book deals with my childhood and youth. The follow-up would essentially focus on adult relationships, dating, divorce, and break-ups. YIKES! 
---
Find Roger
Where can you find Roger online to support his work?
Roger's book Between the Tracks is currently available in print and kindle at Amazon.com. He is also working on an audio version of the story and a Spanish version (more details coming soon!)
Between People
If you would like to be featured on Between People, drop me an email and let's start a conversation!
Subscribe
If you enjoy these "Between People" segments, please subscribe and share with your friends and family. We would love to grow our community and support each other!
1
I also got a Bachelors Degree at TAMUSA. Small San Antonio world, etc.