Discover more from Fike's Substack
The top of mind of the very bottom
Between People: Gina 'Beana'
Art in Community
Gina and I worked together for a handful of years in the 2010s and have been friends ever since. She is an exceptional artist who made crocheted versions of Bluey and Bingo for my kiddos for Christmas1, and she has always shown our family - and my wife especially - warm kindness and intentional empathy. I'm delighted to have this conversation with her and to share more of what she is doing with you.
An Artist
Rob: Gina, what inspired you to start making crochet crafts as an artist? How did that start?
Gina: As a child, I grew up with the military lifestyle of moving around often.  Which meant seeing my extended family was limited to holidays and other special occasions. But anytime I spent time with my grandmother she was teaching me something. One of my favorite memories with her is sitting on her sofa, watching her favorite movies, and learning to crochet. Maybe this is also why I find so much comfort in the art. So at 9 years old, I was given a gift that would bless me throughout my adult life, without even realizing it. A gift that truly keeps on giving.
---
Rob: How do you balance incorporating your personal style with the desires of your clients when taking commissions? Do you have a favorite piece?
Gina: That came with a lot of trial and error. I just opened up for custom requests fairly recently. There is no question that is where the largest market resides. Crochet artists are a dime a dozen, so it was important for me to separate myself from the crowd if I wanted to survive in my arena. 
At some point, you do have to decide if you want to make big money or keep creating in a joyful space. The idea that we can have both without some sacrifice hasn't proven to be true for me. I will tell you, my balance scale is purposely a little off-kilter. And that is because, after much prayerful consideration,  I find higher value in joy. 
My Gina Beana Angels are my favorite piece because they have brought many people comfort and hope during difficult times. And I love all the beautiful stories people who ordered them have shared with me
The Indie Artist Life
Rob: I would say that - being an indie artist/writer myself - the struggle is real to make pieces that sell. What is your secret?
Gina: Observation is a powerful thing! I am always absorbing as much as I can from others and aim to find a need to fill. As one customer told me, "I love how you make things we don't even know we need until you make them." But in my mind, I heard loud and clear. People just need something to connect with in a difficult and isolating world. And if I can accomplish that in any measure, then I have succeeded.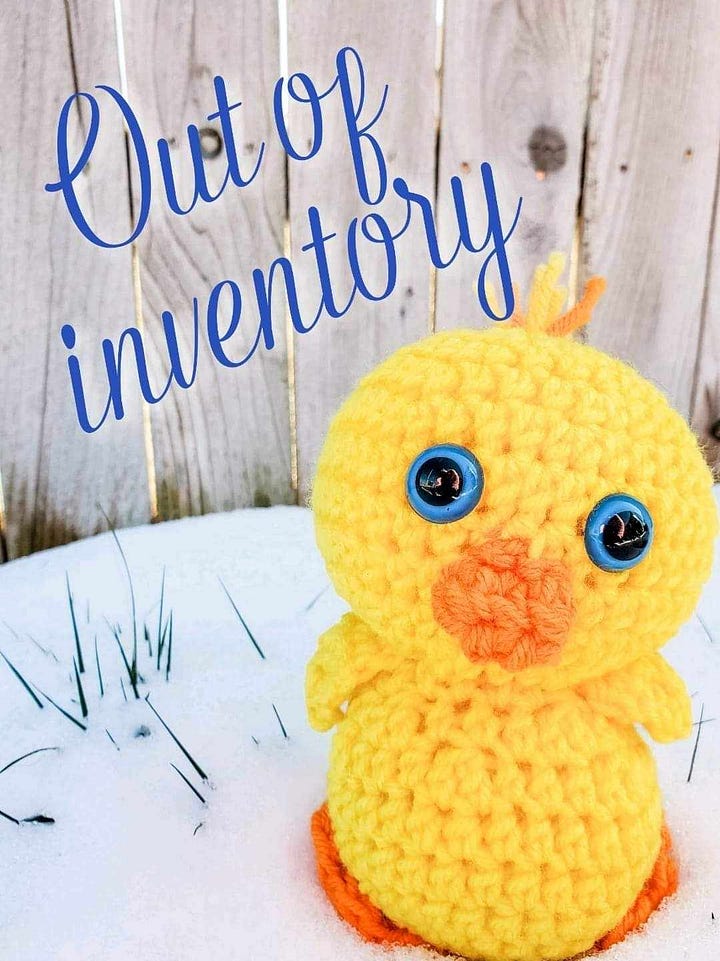 The Challenges
Rob: What are some of the challenges of being a crochet craft artist?
Gina: The amount of time it takes and the struggling economy are at the top of my list, but there are many. 
As an experienced crochet artist, I am faster than average in completing my pieces, but I would still never be able to get close to "minimum wage" when it comes to labor. The average piece takes anywhere from 3-8 hours. Custom pieces can take anywhere from 20-35 hours respectively. If you're a numbers person you already know that's outside of what people would consider reasonable for pricing. There is also the false assumption that because something is smaller it should be cheaper and easier to make when in fact the opposite is true. I still have to make every single part of the project and making them smaller requires more skill (and patience). 
I mentioned the economy because I empathize with my community. During "Snovid" I gave away every beanie and headband in my inventory because people were in need and suffering in their homes without heating.  I never want someone to go without something that brings them comfort and a smile because of my item's price. No one should have to choose between those things. On the flip side, I also need to price my items accordingly so my children and I don't have to choose either. My small business is our bread and butter, so this is a constant tug-of-war in my heart.
An Artist Community
Rob: How do you look at the online community surrounding your art and the support you've gotten over the years you've done this?
Gina: The online community has been incredible in both support and encouragement. I haven't been physically able to participate in vendor markets, so social media and word of mouth have been my main avenues of reaching people. I'll never discount the power my community has had on my success.  My early supporters will always have a special place in my heart as well. Because let's face it. I've come a long way. Haha 
It will always feel vulnerable putting your creations out there for the world. My advice for anyone sitting on this fence unsure how to move forward is to take a deep breath and just do the dang thing. We all started somewhere. We all fumble through the process. But God will show up, and the world will be better with your art in it. And who knows, maybe along the way you can make some money doing what you love.
Support Local Art
The holiday gift-giving season is nearly here, and if you are looking for something special and unique for that someone special and unique in your life - Gina is ready to deliver some pretty fantastic art!
Follow Gina "Beana" on Facebook, and message her to get started on your holiday art orders!
1
Cute Presents for Cute Kiddos is Cute.